Techniques On How To Take Pictures Of Your Eyes For Your Iridology Reading
_________________________________________
If you're unable to visit my office in New England for an Iridology session, here are some helpful tips on how to take pictures of your eyes and how to submit these images for your Iridology reading.
If you live anywhere in the United States or the world this page will assist you when submitting your iris images.
_________________________________________
Taking Your Own Iris Images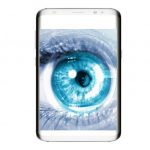 Using a Smart Phone to Take a Picture of Your Eyes…
Here are some suggestions to follow in order to capture some good images of your eyes (the colored 'iris' part of your eyes) prior to sending them in for your Iridology reading.
Proper lighting with clarity is absolutely required.
Your images need to be as large as possible to capture a clear, distortion free view of your eyes.
Let's look at some ways to achieve a good image (picture) of your eyes…
– It's suggested that you use the forward camera on your phone, not the selfie camera side, for higher quality.
(however, you might want to try your selfie side camera to see which image works best on your smart phone)
– Set your Zoom to @ least 2xs (or even Macro setting if your cameras software provides)
– A large pure white large pillow case or a pure white sheet to help dispersed light as a 'soft light'!
OK, this may sound silly but here's why this works!
You'll want to take pictures of your eyes without any harsh lighting that would interfere with a good eye reading. Light sources that are not diffused properly will hide the essential elements that need to be seen clearly. You want to keep the colored part of your eye free from any harsh lighting.
After a lot of testing I've found that a large 'pure white' pillow case or white sheet over your head (yes over your head) helps diffuse the required bright light in a room or even better, outside lighting, to take your iris pictures. Of course, if you wish to experiment with another way to capture your iris image, please, I'd be very curious to know what you discover.
Use your hand held mirror to align your camera up properly to capture your complete eye image.
– Set your flash source to 'off ' – Usually a flash setting will (again) create a harsh lighting result in the picture.
– Have that hand mirror handy to help you align the forward camera lens to your iris.
– If you have one, you might want to set your smart phone on a 'tri-pod'.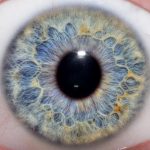 You'll want a clear image without harsh lighting of your eyes like this.
 Having a Photographer Take Your Iris Images
Using a Professional Photographer to take your iris images.

A professional photographer will be able to interpret from the above checklist the requirements to secure proper iris images.
Let your professional photographer simply take notice of the image of the (above) iris image with the fibers of the iris up close (macro setting), while also being bright and clear.
Notice that the light source does not disturb the iris region and only shows a light reflection within the pupil (the dark or black area in the center of the eye). Soft, back flash, lighting is suggested.
How to Send In Your Iris Images
How to properly size and submit your two iris (left and right) images…
Sizing requirements…
– Size of file should 'not' exceed 1.5 mb (mega-byte) each eye max
– Send in image size of 10 x 10 inches or 1250 x 1250 pixels max
– 96 dpi (dots per inch) max
Note: Many images taken from your smart phone or by a professional are extremely large in file format size… Please double check that you are submitting re-sized images that meet the 'sizing requirements' (above).
Arrange today to have your Iris Iridology session!

Sunshine Beeson, CHt
Iridologist
> Click to contact me and request further information <
Iridologist: sunshine@ebeeson.net
Or simply call me: 617-637-6672
By the way, it doesn't matter where you live in order to have an Iridology session because we can do your reading by Phone, Zoom, Facetime, or Skype.
The information found within this Iridology website is for general educational and informational purposes only. The content on this page, or any verbal communications thereof, is not intended nor otherwise implied to be medical advice.
Maintaining your privacy is important to me. I'll uphold the highest standards, including GDPR requirements, to protect all information collected or submitted on my whatisiridology.com website.